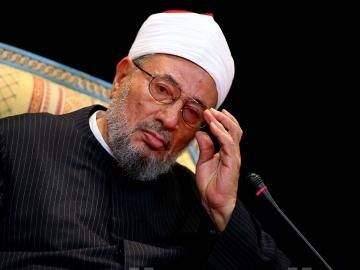 Egyptian Ambassador to the United Arab Emirates Tamer Mansour has denied reports that the Emirati Foreign Ministry contacted embassy officials regarding criticism by Mahmoud Ghozlan, the official spokesperson for the Muslim Brotherhood, of the UAE.
An Egyptian consular delegation will arrive in the UAE on Monday to discuss bilateral relations and look at ways to maximize cooperation in all realms, Mansour told Al-Ahram on Monday. The visit will likely address the diplomatic spat that has chilled relations between the two countries in recent days.
Ghozlan had condemned calls by the Dubai police leader to issue an arrest warrant against prominent Egyptian Sheikh Yusuf al-Qaradawi, chairman of the International Union for Muslim Scholars.
Dubai Police Chief Lieutenant General Dahi Khalfan Tamim had said Dubai would issue an arrest warrant against Qaradawi after he attacked the UAE on Al Jazeera satellite channel and criticized its regime for deporting Syrian families that were protesting against the regime of Bashar al-Assad in front of their consulate in Dubai.
On Twitter, Emirati Foreign Minister Abdullah bin Zayed al-Nahyan said on Saturday that he hopes the Egyptian government will provide clarifications for what Ghozlan said.
"What Ghozlan has said, sadly, reveals bad intentions …" he wrote.
In his comments on television, Ghozlan slammed UAE officials, saying their threats were bluffs meant to intimidate.
"The UAE will not dare arrest Sheikh Qaradawi," he said. "These threats constitute a psychological war and demagogic talk. Qaradawi cannot be arrested."
"The entire Muslim world, and not only the Muslim Brotherhood, would take action against the UAE if this happens."
On Sunday, AFP reported that Emirati authorities have demanded an "explanation" from Egypt over criticism of the UAE by Qaradawi.
The foreign affairs minister of state, Anwar Mohammed Gargash, "met Egypt's foreign minister and demanded an explanation on comments" by Muslim Brotherhood spokesperson Mahmoud Ghozlan, an Emirati spokesperson told AFP.