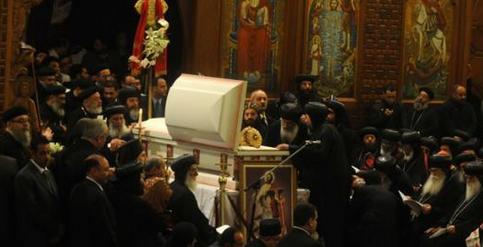 The Coptic Orthodox Church in Egypt announced Tuesday that it formed a committee to study candidates to replace the late Pope Shenouda III.
The decision came after a meeting of the Holy Synod chaired by the acting pope, Bishop Pachomius, and attended by a large number of Coptic bishops from inside and outside Egypt.
The archbishop of Los Angeles, Bishop Tarabyoum, said in a press conference Tuesday that the 18-member committee, according to the 1957 statute that organizes the election of the new pope, will include nine clergymen: Bishop Harda, the Archbishop of Aswan; Bishop Benyamin, the archbishop of Monufiya; Bishop Paula, the archbishop of Tanta; Bishop Ibrahim, the archbishop of Fayoum; Bishop Tarabyoum, the archbishop of Los Angeles; Bishop Daniel, the archbishop of Maadi; Bishop Yastas, chairman of the St. Antony's Monastery in Red Sea; Bishop Izdors, chairman of Baramous Monastery; and Bishop Kirollos Ava Mina, head of St. Mina Monastery.
The nine non-clergy members are Nabil Merham, Edward Ghalib, Monsif Suleiman, Goergit Kellini, Rasmi Abdel Malik, Wagdi Louis, Kamel Saleh and Kamel Shawki, Tarabyoum added.
The committee will hold its first meeting Wednesday to discuss the rules for nomination and commendations according to the statute and to prepare a primary list of the candidates which is to be published in newspapers and hung on churches' doors, he added.
He also said that the Holy Synod has decided to hold the eulogistic ceremony of Pope Shenouda on 24 April, to be attended by major public figures.