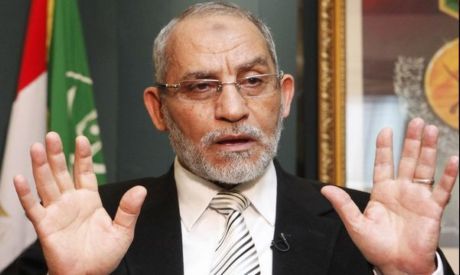 Mohamed Badie, the Muslim Brotherhood's supreme guide, has said the Egyptian media is being driven by the devil into opposing his group.
"The devil is plying his trade again, but this time to make the media convince Egyptians that the Brotherhood [and the FJP] is the new National Democratic Party (NDP) that will destroy the country."
The now-defunct NDP was the ruling party of deposed president Hosni Mubarak and is accused of destroying Egypt's political life for decades.
Badie stressed that Egyptians had never been at odds with the Brotherhood. To substantiate his perspective, he referred to a conversation he had with former US president Jimmy Carter, who was in Egypt in January midway through the parliamentary elections.
"He said he [Carter] believes the Egyptian people love the Brotherhood and that the elections were transparent. This is why the Brotherhood [FJP] secured the lion's share of the seats," said Badie.
"This proves wrong the 'magicians' who have been saying that we will destroy the country and ignite strife."
When he was in Egypt, Carter said the elections witnessed some irregularities, the most frequent of which was the use of religious slogans, whether Islamic or Coptic.
The FJP and the Salafist Nour Party, the first and second largest parties in parliament, were both accused of using Islamic slogans during campaigning.
The FJP and the Nour Party are coming under heavy criticism by leftists and liberals for "dominating the constituent assembly" – the body tasked with drafting Egypt's new constitution – through "unfair procedures."
A number of public figures and MPs stepped down from the assembly as a result. On Tuesday morning a number of secular political parties, independent MPs and public figures confirmed their withdrawal from the assembly at a press conference at the Journalists' Syndicate.
Independent liberal MPs Amr Hamzawy and Mohamed Abu-Hamed, among others, attended the conference.
Renowned activist Ahmed Harara, who became completely blind after losing a second eye while protesting against Egypt's ruling military council in late November (he lost the first protesting against Mubarak in January 2011), was also in attendance.
The Free Egyptians Party and the Tagammu Party were among the parties that made its presence felt at the conference.
The 100-strong constituent assembly consists of 50 MPs and 50 public figures from outside parliament.