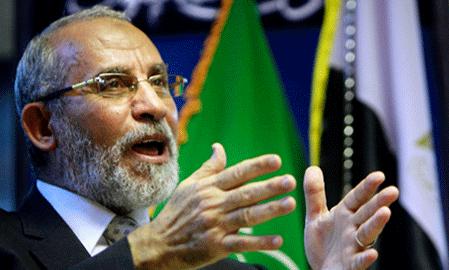 In a press conference on Tuesday, the Muslim Brotherhood and the Freedom and Justice Party defended their decision to go back on an earlier resolution not to field a candidate in the upcoming presidential election.
Brotherhood Supreme Guide Mohamed Badie said that when the group made the decision not to run it was "being sincere, and when it decided to nominate Khairat al-Shater, it was also was honest with the people."
In February 2011, following the ouster of former President Hosni Mubarak, the group said it would not field a candidate for the presidential elections. It also said it would not seek to obtain the majority of seats in Parliament.
However, on Saturday the group announced it was fielding Shater, a former deputy supreme guide, to run in the upcoming presidential election following the approval of the majority of the Brotherhood's Shura Council.
Badie attributed the change in position to political developments that took place during the transitional phase. He went on to say the Brotherhood does not make individual decisions; rather, all decisions are discussed and made collectively.
The press conference was attended by former Assistant Foreign Minister Abdullah al-Ashaal who announced his withdrawal from the presidential race in favor of Shater. He also called on all segments of society to support Shater in the election.
FJP Chairman Mohamed Morsy praised Ashaal's initiative, describing him as a valuable public figure and saying his withdrawal was in the country's best interest.
Morsy went on to say that the revolution will continue in order to achieve the nation's interests, that the coming president must be elected by the people and the constitution must represent all Egyptians.
Morsy criticized comparisons of the FJP to the dissolved National Democratic Party (NDP) saying, "The NDP won all elections through fraud, and it did not reflect the will of the people. The Brotherhood did not monopolize anything in the executive branch; it did not form a government and has no governors, all it won, including the legislative authority, was through elections."
"In the end, the people will protect the ballot boxes as they did during the parliamentary elections and they will choose the candidate that represents them," he said. "The Brotherhood will be satisfied with the outcome of the presidential election, as long as it expresses the people's will."