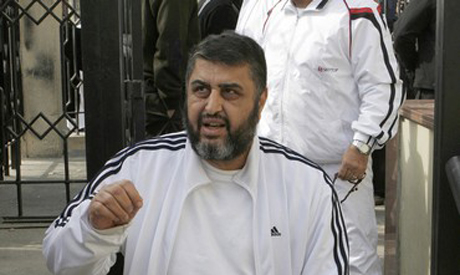 The Muslim Brotherhood's presidential candidate Khairat El-Shater's legal status remains questionable, following ambiguous details surrounding his most recent prison sentences.
The presidential hopeful is known to be one of the masterminds behind the Islamist organisation as well as being its main finance manager, having merged his expanding wealth with that of the group during the mid-90s.
El-Shater was the target of Hosni Mubarak government's political crackdowns for years. While he did time in prison five different times in his lifetime, two particular cases still haunt his political career.
In 1992, El-Shater was arrested and accused of money laundering in the case better known as "Salsabeel", the name of a computer information systems company which he founded together with Brotherhood member Hassan Malek.
In 2006, El-Shater was again accused of money laundering and of funding the then-banned Muslim Brotherhood group.
His case was referred to military prosecution, which sentenced him in 2008 to seven years in prison. He was only released four years later, after the ouster of Mubarak in February 2011, for health considerations.
Abdel-Moneim Abdel-Maqsoud, El-Shater's lawyer, confirmed in several press statements that his client no longer faced any legal barriers in pursuing his political career. Nevertheless, Abdel-Maqsoud's explanation to that has been far from clear.
On Sunday during ONTV'sprime time public affairs programme Baladna Bel Masry, Abdel-Maqsoud told television presenter Reem Maged that El-Shater faced two accusations in the 2008 case, better known as the "Brotherhood militias" case.
According to Abdel-Maqsoud, the first accusation involved money laundering but that was dropped, during a retrial in front of the military court, which found El-Shater innocent.
In fact, on 20 February 2012 the Egyptian stock exchange had received a notification from the military prosecutor lifting the freeze on El-Shater's financial assets and that of his family. This enabled him to use them freely again after years of a block.
On the same day, in an interview with TV presenter Lamis El-Hadidi on satellite television channel CBC, Abdel-Maqsoud confirmed that the money laundering charges against El-Shater had, in fact, been dropped.
However, Abdel-Maqsoud added, he still faced the second accusation, which charged him with belonging to the "banned" group of the Brotherhood. Nevertheless, El-Shater's lawyer expressed his certainty that these charges would be dropped given the "change in circumstances."
The Muslim Brotherhood, once banned under Egyptian law, now operates openly. Its political arm, the Freedom and Justice Party, occupy more than 40% of parliament's seats.
In the Sunday interview with Maged, following the Brotherhood's declaration that El-Shater no longer faced charges, El-Shater's lawyer made a vague statement regarding his legal status.
"Some people facing the same accusation [belonging to the banned group the Muslim Brotherhood] have been retried and found innocent and that is what El-Shater benefited from," Abdel-Maqsoud told the private television channel.
"New developments [influencing a given case] enables the person [accused in the case] to file a request to the military prosecution demanding a retrial and that is what El-Shater did."
According to legal expert and Judge Mohamed Hamed El-Gamal, a retrial can only go ahead if the accused appeals the court verdict and that can only be made within 60 days after the court's announcement.
However, El-Gamal agreed that in case of any new evidence or developments that may prove the accused innocent, the lawyer may file a request to court demanding a retrial.
El-Gamal told Ahram Online any citizen previously found guilty of a criminal case, such as El-Shater, remains barred from pursing his full political rights even after his release unless he obtains "redemption" from the court or a pardon from the executive authority.
A court "redemption" can only be given by the very court that had sentenced the accused, which in El-Shater's case would be a military one, a full 10 years after the conviction.
The Supreme Council of the Armed Forces (SCAF), Egypt's current executive authority until a new president is elected, can also issue an immediate pardon.
Given El-Shater's circumstances and the information at hand, El-Gamal speculates that from a purely legal perspective (although he stressed he was not familiar with the case) El-Shater cannot receive "redemption" as he was convicted less than 10 years ago.
He did agree, however, that a court may retry an accused if it accepts that recent developments or evidence may change its verdict, as Abdel-Maqsoud claimed had happened in El-Shater's case.
According to El-Gamal, El-Shater can also receive a direct pardon from the SCAF, a fact often denied by Abdel-Maqsoud who repeatedly stated "all decisions were made by military court and no other body."
Abdel-Maqsoud nevertheless remained vague about when the military court's decision had been made. Although he confirmed it was before other presidential hopeful Ayman Nour had received his pardon from the SCAF. The liberal politician, who also faced corruption charges, received a pardon from the ruling military council on 28 March, allowing him to enter the presidential race.
It appears that SCAF-Brotherhood relations have recently soured, following a series of angry statement exchanges from 24 March.
The Brotherhood announced the SCAF wished to abort the revolution and orchestrate the presidential elections. In response, the military council issued a threatening and vague statement interpreted by many as a direct warning to the Brotherhood.
If the military court decision was made after 24 March, when tensions had already started escalating between the Islamist group and the military rulers, this could be used to refute Brotherhood claims that their move to back El-Shater came as part of a "fight" with the SCAF.
Several, including former Brotherhood member Haitham Abu Khalil, suggested El-Shater's nomination may mean the contrary: that an agreement has been struck between the Brotherhood and the SCAF.
A New York Times article published on Sunday said the same. Quoting US State department officials, it reported that the US was "optimistic" about the Brotherhood's decision to file a candidate. They added that El-Shater was not only well -known to the American diplomats but also to "their main contacts in the Egyptian military."