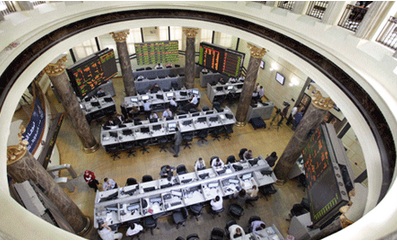 Egypt's stocks slowed their gains slightly on Tuesday but still finished in the green.
Main index EGX30 rose by 0.8 per cent, recording 4,984.13 points - a small rise compared to Monday's climb of around 5 per cent.
Ashraf Abdel-Aziz, head of institutional assets at Arabeya Online, attributed the slowdown in gains to possible profit-taking processes by Egyptians, as they had been net-buyers for six sessions.
Egyptians were the only net-sellers on Tuesday, at LE43.2 million, while foreigners and Arabs bought at LE9 million and LE34.1 million respectively.
"It's good to see the foreigners buy today, unlike previous several sessions," Abdel-Aziz told Ahram Online.
He added that the positive impact of the country's current situation has already reached foreign investors, mentioning specifically the new round of talks between the International Monetary Fund (IMF) and the Egyptian government.
On Monday it was reported that Egypt will consider approaching the IMF and other financial institutions for loans to help get its economy back on track, once new president Mohamed Morsi appoints a government.
The broader index EGX70 also grew by 0.7 per cent.
Several listed heavyweight shares were somewhat affected by Egyptians' selling, such as Orascom Construction Industries which declined 0.4 per cent.
Orascom's affiliates (Orascom Telecom and Orascom Telecom Media and Technology) also saw their gains shrunk by 0.3 per cent and 0.6 per cent respectively.
Commercial International Bank was the prominent survivor (up 5.6 per cent) on the back of foreigners' purchases.
Property shares continue their solid performance as the Talaat Mostafa Group and Palm Hills rose by 1.4 per cent and 1.9 per cent respectively.
Of 179 traded stocks, 104 have gained and 58 saw losses in a session which captured a daily sum of LE613.3 million.