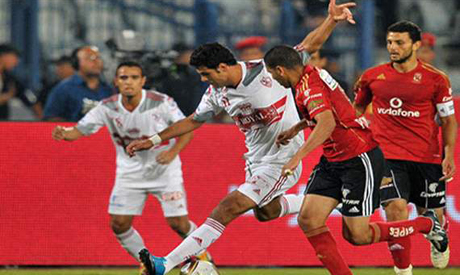 The referee blows his half-time whistle, Zamalek 0-0 Ahly , 45 The referee adds two minutes as stoppage time.
42 Zamalek striker Abdoulaye Cisse squanders a golden opportunity!! he is found unmarked by a low cross from Ahmed Hassan but his scooped shot goes over the bar.
39 Ahmed Samir is exploiting the gaps on Ahly's left side, but his finishing touch always lets him down.
37 Zamalek might pay for the wasted effort, given the constant pressure of Ahly.
35 Zamalek create their first chance!! Right-back Ahmed Samir breaks clear and finds himself one-on-one with Ahly keeper Ekramy following a superb long ball from Alexis Mendomo, but he dithers on the ball while attempting to round the keeper to allow the defence to clear the danger.
30 Another chance for Ahly!! Abou-Treika is unlucky to have his close-range blocked by a defender following a goal-mouth scramble. Zamalek's defence is struggling to keep at bay Ahly's skilful forwards.
28 Ahly appeal for a handball for an alleged handball on Zamalek left-back Mohamed Abdel-Shafy but the referee waves play on.
25 The lively Walid Soliman, the best performer on the pitch so far, skilfully skips past a challenger on the left but his cross goes begging.
22 Ahly are moving the ball around smoothly, just outside Zamalek's penalty area, but they are still struggling to find a way through.
19 The game is still very dull. The absence of the fans is clearing taking toll on both sides.
16 Soliman and left-back Sayed Moawad are causing menace to Zamalek's defence, thanks to their frequent exchange of passes.
13 First real chance in the match!! Ahly's forward Walid Soliman is picked out unmarked inside the area but he sends his low shot wide of the post, poor effort from the fleet-footed player.
12 Ahly's talented attacking midfielders are still finding it difficult to make their presence felt. They are contained by Zamalek's three defensive midfielders.
11 Zamalek's veteran midfielder Ahmed Hassan is dictating play, trying to send long balls behind Ahly's backline.
10 No threats so far. Both sides remain cautious in front of an empty stadium.
8 Ahly's right-back Ahmed Fathi receives a yellow card for a foul on an opponent.
5 Zamalek have the better possession in the first five minutes. They used to make the better start in recent Cairo derbies, only to lose at the end.
4 Zamalek midfielder Nour El-Sayed, best known for his cannon-like shots, lets fly from distance but his effort goes high over.
3 Zamalek are awarded the first corner kick of the game but Ahly keeper Sherif Ekramy palms away the ensuing cross.
2 Ahly's left-back Sayed Moawad falls to the ground under a reckless challenge from Zamalek right-back Ahmed Samir, who is lucky to escape a yellow card.
The match is underway
21:50 Zamalek opted for a cautious strategy, unlike Ahly who deployed three attacking midfielders and a lone striker in Emad Meteb.
21:30 Both sides stepped onto the pitch for the routine warm-up.
21:30 Zamalek's newly-signed defender Hamada Tolba, who arrived from Maqassa on a season-long loan, will make his debut to replace injured defender Salah Soliman.
21:20 Ahly's starting line-up: Sherif Ekramy, Ahmed Fathi, Sherif Abdel-Fadil, Mohamed Naguib, Sayed Moawad, Hossam Ashour, Hossam Ghaly, Mohamed Barakat, Mohamed Abou-Treika, Walid Soliman, Emad Meteb.
21:20 Zamalek's starting line-up: Abdel-Wahed El-Sayed, Ahmed Samir, Mahmoud Fathallah, Hamada Tolba, Mohamed Abdel-Shafy, Ibrahim Salah, Alexis Mendomo, Nour El-Sayed, Ahmed Hassan, Mohamed Ibrahim, Abdoulaye Cisse.
21:10 Zamalek have given coach Hassan Shehata a vote of confidence before the game after rumours suggested he might be sacked if the team failed to beat their arch-rivals.
21:10 It is the second game for Ahly under the guidance of coach Hossam El-Badry, who took over at the team for a second spell following the resignation of highly-successful coach Manuel Jose.
21:05 Zamalek, on the other hand, were dearly affected by lack of domestic action, surrendering their lead twice to lose 3-2 to Ghana's Chelsea after conceding a stoppage-time goal.
21:05 Ahly are in a buoyant mood, having opened their Group B campaign with a convincing 2-1 home victory over TP Mazembe of the DR Congo.
21:03 The anticipated game will be played behind closed doors due to ongoing security concerns in Egypt, depriving both teams of the enthusiastic support of their die-hard fans.
21:00 Welcome to Ahram Online's live coverage of the African Champions League clash between Ahly and Zamalek at Cairo's Military Academy Stadium.