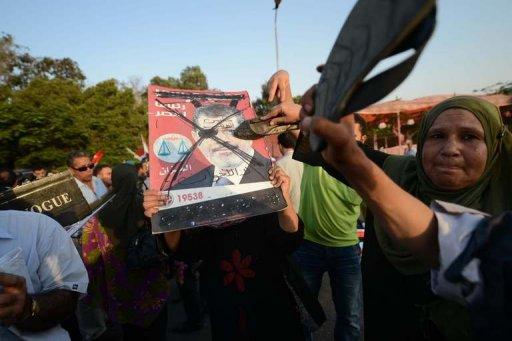 Egypt's Interior Ministry on Wednesday warned organizers planning a campaign of protests against President Mohamed Morsy on 24 August that it would respond "decisively" to any violence.
The protest leaders insist their campaign will be peaceful but Morsy's Muslim Brotherhood movement accuses them of coordinating with former regime figures to try to unseat the Islamist president.
Police "will decisively and legitimately confront any attempt to storm or attack any public or private installation, detain workers in them or cause chaos," the ministry said in a statement.
One of the organizers, the liberal Mohamed Abou Hamed, said the protests would amount to a peaceful "revolution."
The protesters, who are planning a sit-in near the presidential palace, aim to demand an investigation into the Brotherhood's funding and reject Morsy's interim constitution that took legislative powers away from the military, he said.
The Brotherhood has accused protest organizers of planning unrest in the hope that the military, which took charge of Egypt after President Hosni Mubarak was overthrown in February 2011, would step in again.
Brotherhood officials told AFP that the presence of Abou Hamed and other protest organizers by the side of Egypt's former military ruler Field Marshal Hussein Tantawi at a funeral for slain soldiers had influenced Morsy's decision to sack him.
"The people [that the protesters] had depended on have been retired," senior Brotherhood official Mahmoud Ghozlan told AFP.
Morsy sacked Tantawi and other senior military generals after a militant attack on an army outpost in Sinai killed 16 soldiers on 5 August, prompting an unprecedented military campaign in the peninsula which borders Israel and Gaza.
At the slain soldiers' funeral, protesters chanted slogans against the Brotherhood and tried to assault Morsy's Islamist Prime Minister, Hisham Qandil.
Dina Zakaria, a founder of the Brotherhood's Freedom and Justice Party which Morsy headed before his election, said the president preempted any repeat of the scenario that forced Mubarak to resign.
"They hoped that with chaos, they will do what happened to Mubarak, they hoped some in the military council would help them," she said. "The president has secured the military behind him," with the dismissal of Tantawi and other generals.
A presidential source said the sackings were prompted by the Sinai attack, but specifically linked one dismissal, that of military police chief Hamdy Badeen, to the funeral which Morsy did not attend.
A power struggle with the military ensued after Morsy's inauguration on 30 June, culminating in the president taking over Tantawi's powers under an interim constitution.
In the weeks before Morsy's election, the military had assumed the powers of the Islamist-dominated parliament after disbanding it and taken control of the state budget, moves that Morsy has now reversed.