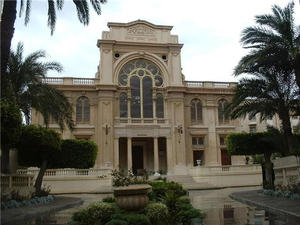 Egyptian authorities have ordered the cancellation of Jewish New Year and Yom Kippur celebrations at Alexandria's Eliahou Hanabi Synagogue due to security concerns.
Several Israelis have already been denied permission to attend the festivals, the synagogue's Rabbi Abraham Nino-Dayan told the BBC.
It will be the first time since the synagogue was built in 1836 that the festivals will not take place.
"This is the end of Jewish life in Egypt," the president of the International Association of Egyptian Jews in Israel, Livana Ramez, told the BBC.
Nino-Dayan said he did not believe President Mohamed Morsi, a member of the Muslim Brotherhood, was behind the decision to cancel the festivals.
Alexandria's Eliahou Hanabi Synagogue is the last active synagogue in the Egypt.