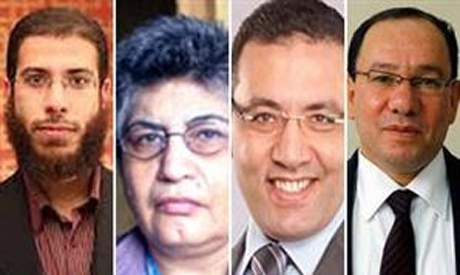 The Shura Council (the upper, consultative house of Egypt's parliament) announced new appointments on Tuesday to Egypt's Supreme Press Council.
The new appointments include Shura Council head and Freedom and Justice Party member Ahmed Fahmi, eight chairpersons, eight editors-in-chief of state-owned publications and four editors-in-chief of party-affiliated newspapers (the latter of which include newspapers Al-Wafd, Al-Ahrar, Al-Nour and Freedom and Justice).
New appointments also included the head of the Egyptian Journalists Syndicate and four former members of Egypt's Supreme Press Council. The latter include liberal veteran politician Osama El-Ghazaly Harb, along with Ibrahim Hegazy, Mohamed Khuraga and Mohamed Negm.
The new appointments further included head of the General Union of Press, Printing and Publishing Workers Talaat El-Meneisi.
A number of media and journalism experts were also appointed to the press council, including Bassiouni Ibrahim Hamadan and Mahmoud Alam El-din, along with legal experts Omar Salem, a former minister of legal affairs, and Judge Mohamed Magdi Abu-Naas.
Several Islamist figures were also appointed to the press council. These included Salafist Nour Party members Ahmed Khalil, Tarek El-Sahri and Nader Bakar, along with Muslim Brotherhood members Fathi Shehab El-Din, head of the Shura Council's culture committee, and journalist Qutb El-Arabi.
A host of veteran journalists were also appointed, including: Osama Ayoub, assistant editor of October magazine; Khaled Salah, editor-in-chief of Al-Youm El-Sabae newspaper; Sameh Mahrous, assistant editor of Al-Gomhouriya newspaper; leftist political figure Wael Qandil, editor-in-chief of Al-Shorouk newspaper; Naglaa Mahfouz; Ashraf Sadek; Souad Abul-Nasr; and Mohammed Sherif El-Abd.
Additional press council appointments included Geel Party President Nagi El-Shahabi and political science and economy professor Ayman El-Mahgoub, along with Magdi El-Maasrawy, Mohamed El-Gawady, Khaled Hasanein, Azza Youssef, Mohamed Hassanein, Ashraf Saber, Abeer Beshr, Hedayat Abdel-Nabi and Mohsen Hassan.