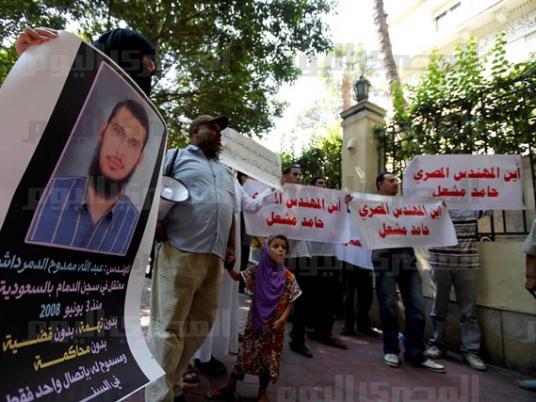 Sixty-one Egyptians in Saudi Arabia were held in a Jeddah prison for three months without being interrogated or referred to trial under the pretext that they violated residence laws.
The detainees included business owners, some of whom say they had residence permits.
A number of detainees told Al-Masry Al-Youm Wednesday that Saudi authorities arrested them along with other detainees and held them in prison until being deported to Egypt.
A member of the Egyptian consulate's staff in Jeddah met 12 detainees and took them out of the prison to deport them before returning them to prison 10 days later, they said.
Detainees Mahmoud Mohamed Ramadan, Nasser Abdel Fattah Youssef, Mohamed Qamhawy, Abdel Nasser Mowahed Mohamed, and Mohamed Ismail Mohamed called on the Egyptian authorities to intervene and end what they called a "tragedy."
They said they were detained in a cell that included about 700 prisoners of different nationalities, adding that they slept on the ground.
Mohamed Saad, another Egyptian who was detained, told Al-Masry Al-Youm he was a businessman in Saudi Arabia who had a residence permit.
On 17 August, Saad was arrested by the Saudi authorities before boarding the plane to spend Eid vacation in Egypt because he allegedly had not given airport authorities his fingerprints when he entered the country a few years ago.
In February, Saudi Ambassador to Cairo Ahmed al-Qattan said that there are 1,401 Egyptian prisoners in Saudi Arabia, and that the Egyptian Foreign Ministry has been briefed on them.
Egyptian President Mohamed Morsy visited Saudi Arabia in July and discussed the issue with Saudi King Abdullah bin Abdul Aziz. In August, Qattan announced that the Saudi king had pardoned and released 82 Egyptian prisoners on the occasion of Ramadan.