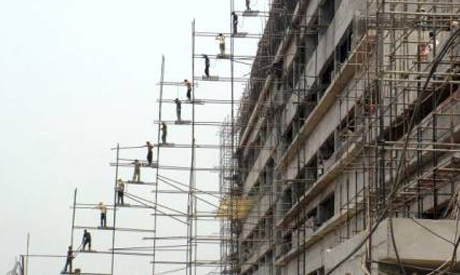 Egypt's Orascom Construction Industries reported a 28 per cent drop in net income for the second quarter, in line with analyst forecasts, pulled lower by start-up costs at its Algerian and U.S. fertiliser plants.
Net income fell to $119.4 million from $165.2 million a year earlier, Egypt's biggest listed company said in a statement, which also blamed a higher effective tax rate because of a bigger contribution to earnings from its European operations.
OCI, which announced a $1.4 billion fertiliser investment in the United States late on Wednesday, said droughts in that country had reduced yields, making it necessary for farmers to increase acreage.
"We expect strong demand for fertilizer products in the upcoming harvesting season and we expect prices to remain firm for the remainder part of the year," Chairman Nassef Sawiris said in a statement on Thursday.
The company said it expected its new Sorfert Algeria business to begin exports this month after entering production and its Egyptian Fertiliser Company had completed a stoppage to overcome bottlenecks.
OCI has sought to attract projects from across the Middle East to offset a slowdown at home since Egypt's leader was ousted in 2011.
With Turkish groups among its main rivals in the Gulf, OCI's competitiveness was blunted by a 20 per cent increase in the Egyptian pound's value against the Turkish lira over two years.
Earnings before interest, tax, depreciation and amortisation at the construction business represented 11 per cent of sales, down from 13 per cent a year earlier, the company said.
OCI said its construction business would increase its focus on infrastructure programmes in Saudi Arabia and Iraq after reporting a 9.2 per cent decline in its consolidated backlog from the first quarter to $5.89 billion.
The net income figure was in line with the average forecast from 13 analysts polled by the company. Revenue fell 8.5 per cent to $1.349 billion, below the average analyst forecast of $1.427 billion.
The company's shares are up 41 per cent this year. Investment bank EFG Hermes cut its rating on the stock to "neutral" from "buy" on Wednesday citing the strong share price performance.
Sawiris said on Wednesday he expected the split of OCI's fertiliser and construction businesses to be completed next month.