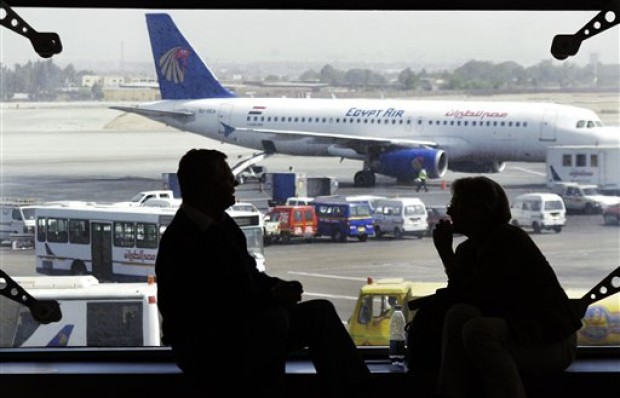 Officials at Egypt's main international airport were working off a backlog of delayed flights and trying to placate angry passengers on Sunday, after two days of strikes left planes grounded and some travelers stranded.

Over 90 percent of flights with national carrier EgyptAir were back on track, officials said, after concessions by management on most non-pay related demands, including a hiring boost and the lifting of a ban on the wearing of Muslim veils by flight attendants ended the action.

Flight attendants kicked off the strike on Friday with demands for better compensation amid what they called poor working conditions and understaffing, leading the carrier to ground international flights from Cairo for nearly 12-hours.

Baggage handlers then launched a work slowdown immediately thereafter, prolonging the chaos and keeping terminals filled with disgruntled passengers.

Company officials said the strikes will hit EgyptAir's already stretched budget to the tune of millions of dollars, with some estimating losses of between $20 and $30 million. At least 30 international flights were grounded as a result.

Hossam Kamal, head of EgyptAir's holding company, said in a statement that 114 international and domestic flights had left Cairo on Sunday by the late afternoon, including rescheduled flights. He expected departures to be back on schedule within hours.

Meanwhile, company officials and the Minister of Civil Aviation Samir Imbabi told reporters that the flight attendants had agreed to postpone demands for more pay until business conditions improved.

"All their administrative demands have been met. This is their right," he told reporters. "But I ask everyone to love and care for Egypt."

Officials who attended the negotiations said concessions included hiring about 250 new flight attendants to ease the load on the current 1,200, and creating a separate unit in the company for cabin crews. The officials spoke on condition of anonymity because they were not authorized to discuss the details of the agreement.

Mahmoud Khairi, a spokesman for the flight attendants union, said the agreement included approving requests by some female flight attendants to wear the Islamic veil, which was traditionally unacceptable during the time when former President Hosni Mubarak ruled the country.

Since President Mohammed Morsi, an Islamist, came to power this summer, female TV presenters wearing the veil were allowed to appear on state TV channels for the first time since it was launched in the 1960s. Previously, the channels had a de facto ban on the practice, in line with government policy to project a secular image of the state.

Most women in the country of 83 million wear the veil, although Christians, which make up around 10 percent of the population, do not.

Khairi said the flight attendants will issue an apology for the losses accrued by the company because of their strike.

Meanwhile, EgyptAir handled the work slowdown by baggage handlers by meeting their demands and nearly doubling their staffing.

The 80-year old flagship airline says it has suffered major financial blows since last year's uprising, aggravated in part by plunging demand from foreign tourists scared off by what some saw as a country in turmoil.

Labor unrest has proliferated since Mubarak's ouster. Unions complain of rampant corruption and outdated laws, and are demanding restructuring and new management at state-run companies.