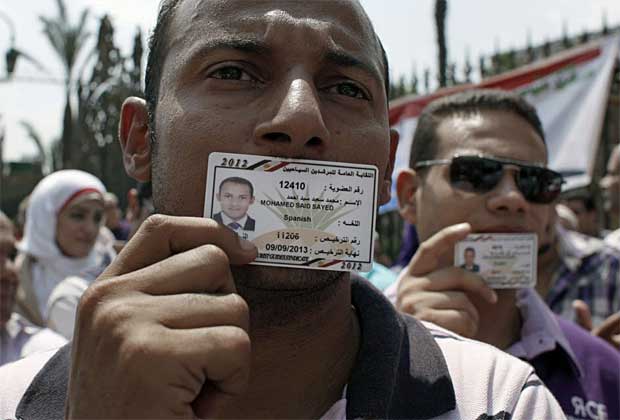 Egypt's tour guides demonstrated Sunday, protesting that they are attacked by souvenir vendors and unlicensed competitors at famed sites like the Valley of the Kings tombs in Luxor or Cairo's medieval citadel.
The turmoil reflects the crisis in Egypt's vital tourism industry, which has suffered from the country's internal unrest since the 2011 uprising that forced President Hosni Mubarak to step down.
Tourism officials said revenues and the number of tourists dropped by about a third in 2011. Official guides, unlicensed competitors and souvenir salesmen vie for the attention of small numbers of tourists — and the licensed operators have had enough.
About 150 tour guides demonstrated Sunday outside Cairo's famed Egyptian Museum. They said the lack of security and increased lawlessness, which has plagued much of Egypt following the toppling of Mubarak, has exposed them to attacks from vendors and competitors and further complicates attempts to lure tourists back.
"There is no security. This is not a joke," said Dina Yacoub, a 29-year-old guide who said she was punched in the face three times last month when an angry citizen tried to cut in line for a small train at the Cairo citadel and she protested. "We are asking tourists to come back ... how would they unless there is security?"
Yacoub's was one of at least 40 cases of assaults on tour guides reported to the professional union over the last year, said Gladys Haddad, a member of the union.
"Most of the assaults were basically fights over tourists," she said, by vendors and unlicensed competitors breaking regulations and at times even damaging protected sites.
She said vendors are operating inside the Valley of the Kings in Luxor, in violation of antiquities laws that prevent even cameras from being brought into the tombs. In other areas, they have moved entrances into historic sites to ensure that tourists pass through their bazaars.
Haddad said some of the attacks were prompted by harassment of foreign tourists. When one guide objected, the vendor hit him in the head with a statue, causing a long gash, she said.
Tourism officials were not immediately available for comment.
Faten Abou Ali, a spokesman for the guides' union, says Islamist President Mohammed Morsi's new government is not paying attention to the industry.
"They are forgetting tourism. They are only talking about long term projects," Abou Ali, the deputy of the guide's union, which has about 16,000 members. "Tourism ... can bring in lots of cash. They need to open it up ... They need to tell us, do they want tourism or not?"
Many worried that an Islamist-dominated government might put restrictions on tourism, such as banning alcohol or mixed beaches, and scare away tourists. Conflicting statements from members of Morsi's party and other more radical Islamists about what is allowed and what is not caused concern.
During his first days in office, Morsi visited tourists sites in Luxor in an apparent message of reassurance.
Egypt has long coasts on the Mediterranean and the Red Sea, which have attracted visitors from Europe and U.S. because of their pristine beaches and beautiful diving sites.
"We work in the hospitality business. If we don't have those tools than we should shut it and let tourists go to neighbouring Israel and let her make all the money," said Raji Banna, a 36-year old guide. "If Islamist groups and the current government don't want to promote tourism, then tell us to go home."