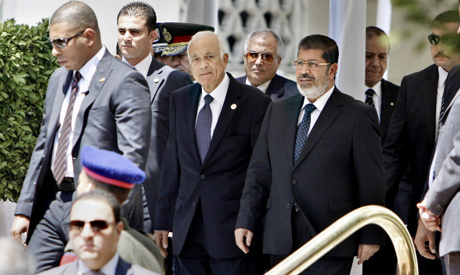 Egypt's foreign ministry on Monday confirmed it was hosting a meeting of a four-way "contact group" aimed at resolving the conflict in Syria, after Iran said it was attending.
Delegations from Turkey, Iran and Saudi Arabia "will meet today... in a bid to confront the deteriorating situation in Syria and put an end to the suffering of the Syrian people and an end to the bloodshed through a political process," the ministry said in a statement.
The meeting is the first of a regional "contact group" on Syria proposed by Egypt's new president, Mohamed Morsi, at an August summit of the Organisation of Islamic Cooperation in Saudi Arabia that suspended Syria's membership.
The delegations would "exchange points of view on the tragic developments in Syria and ways to end the bloodbath and achieve the aspirations of the Syrian people," foreign ministry official Nazih al-Naggari was quoted as saying in the statement.
Egypt would "work to reach a consensus over an immediate halt to the killing and violence; the preservation of Syrian unity, sovereignty and territorial integrity; the rejection of foreign military intervention in Syria," the statement said.
It would also seek to "launch a political process with the participation of all segments of the Syrian population... supporting Arab and international efforts aimed at resolving the crisis, including the mission of UN-Arab League envoy Lakhdar Brahimi."
The ministry said the contact group was open to "any positive contribution from other parties in the future."
Earlier, Iran's foreign ministry said in a report that a deputy foreign minister, Hossein Amir Abdollahian, had left Tehran for the Egyptian capital to take part in the meeting.
"Iran's participation in this meeting is within the framework of solving the Syrian crisis and to listening to the Egyptian proposal," spokesman Ramin Mehmanparast told Iran's Al-Alam Arabic-language broadcaster.