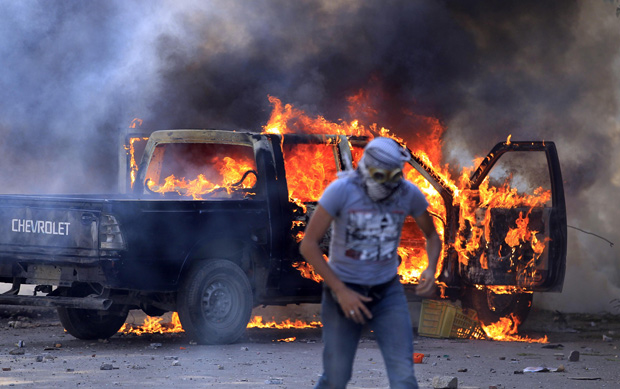 Cairo protesters threw rocks at police, who threw them back and fired tear gas. A burnt-out car was overturned in the middle of the street leading to the fortified embassy from Tahrir Square, focus of protests that ushered in democracy.

Egypt has said the U.S. government, which has condemned the film, should not be blamed for it, but has also urged Washington to take legal action against those insulting religion.

President Mohamed Mursi, an Islamist who is Egypt's first freely elected president, is having to strike a delicate balance, protecting the embassy of a major donor while also showing a robust response to a film that angered Islamists.

"What happened a few days ago was a pernicious attempt to insult the Prophet Mohammad. It is something we reject and Egypt stands against. We will not permit that these acts are carried out," said Mursi, on a visit to Italy, adding:

"We cannot accept the killing of innocent people nor attacks on embassies. We must defend diplomats and tourists who come to visit our country. Killing people is forbidden…by our faith."
The Muslim Brotherhood called for a peaceful nationwide protest on Friday. Mursi was the Brotherhood's presidential candidate, although he formally resigned his membership on taking office saying he wanted to represent all Egyptians.
In Libya, authorities said they had made four arrests in the investigation into the attack that killed Ambassador Christopher Stevens. U.S. officials said it may have been planned in advance — possibly by an al-Qaeda-linked group.
Pope Benedict arrived in Lebanon on Friday for a religiously sensitive visit, especially given anger over the film, which depicts the Prophet Mohammad in terms seen as blasphemous by Muslims, although the only protests in Lebanon against it were due to take place far from the capital.
U.S. Secretary of State Hillary Clinton said Washington had nothing to do with the crudely made film posted on the Internet, which she called "disgusting and reprehensible," and the Chairman of the U.S. Joint Chiefs of Staff called a Christian pastor in Florida to ask him to withdraw his support for it.
About 300 people protested in Cairo, some waving flags with religious slogans. State media reported 224 injured since violence erupted on Wednesday night after a protest in which the embassy walls were scaled on Tuesday.
"Before the police, we were attacked by Obama, and his government, and the Coptic Christians living abroad," shouted one protester, wearing a traditional robe and beard favoured by some ultraorthodox Muslims, as he pointed at the police cordon.
Egypt's Coptic Orthodox church has condemned what it said were Copts abroad who had financed the film.