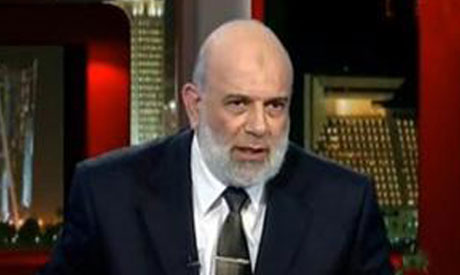 A lawyer, Ghoneim Farouq, filed a complaint, Sunday, to Egypt's public prosecutor accusing controversial Salafist preacher Wagdi Ghoneim of offending President Mohamed Morsi.
In a video circulating social networks, the Salafist scholar condemned the president's 6 September meeting with Egyptian artists, who he denounced as "promoters of immortality and prostitution."
"If he claims to have met them as the president of all [Egyptians] then why doesn't he also meet with stoned people and homosexuals, aren't they Egyptian as well?" Ghoneim said to the camera.
The notorious preacher, who is known for his controversial statements, further criticised Morsi for referring to Egypt as "a civil state", saying he did not vote for Morsi so that Egypt could become a civil state.
Farouq filed the complaint following what he called the "offensive" comments.
Ghoneim sparked controversy earlier this year during a visit to Tunisia where he promoted female genital mutilation and polygamy.