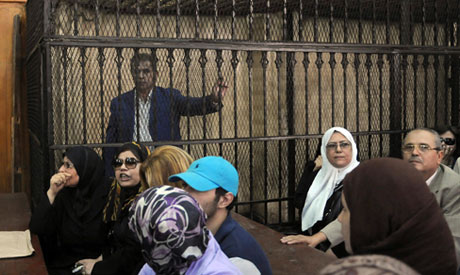 The owner of a TV station, who is on trial for incitement following his call for the killing of Egypt's Islamist president, has been released after being briefly detained over allegations of theft of electrical power and bounced cheques, security officials said on Monday.
They said Tawfiq Okasha was released late Sunday after nearly 10 hours of questioning at a police station in Cairo's Nasr City district.
Authorities last month closed Okasha's TV station — "Al-Faraeen," or "The Pharaohs" — which he used to launch scathing attacks on President Mohamed Morsi and the leader's Islamist group, the Muslim Brotherhood.
News of Okasha's detention broke on the same day Justice Ministry officials said an investigating judge referred the last prime minister of Egypt's deposed authoritarian leader Hosni Mubarak to trial on corruption charges arising from the decade he served as civil aviation minister. Besides Ahmed Shafiq, the chairman of national carrier EgyptAir and nine other ministry officials were also referred to trial.
The EgyptAir chief, Tawfiq Mohammed Asi, had just been named to his post on Thursday, and a party with hundreds of employees had been given at the company's headquarters to celebrate the appointment. A career pilot, he was the chairman of the national carrier between 2007 and 2009, when he was fired by Shafiq.
Civil Aviation Minister Sameer Imbabi told reporters on Monday that Asi will stay at his job until a final verdict is reached in the case.
No date has been announced for the start of the trial. Imbabi's ministry oversees EgyptAir's operations.
Shafiq left Egypt shortly after his narrow defeat by Morsi in a presi