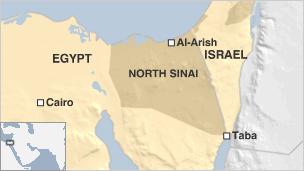 Twenty-one members of the Egyptian security forces have been killed in a vehicle accident in the Sinai peninsula, state media report.
The official Mena news agency said another 20 personnel had been injured in the accident, which happened close to the Israeli border.
Egypt's military have been carrying out operations against Islamist militants in the Sinai.
There is no indication the crash is connected with the operations.
An unnamed Egyptian interior ministry spokesperson quoted by Mena said the driver of a troop carrier had lost control of the vehicle on rough terrain, causing it to overturn.
Health ministry official Tarek Khater told the Associated Press that the vehicle was transferring members of the Central Security Forces based on the border with Israel to their camp when the accident happened.
Spate of attacks

Central Security Forces are separate from the Egyptian army, coming under the authority of the interior ministry, but both have been conducting operations in the Sinai, in response to attacks by Islamist militants.
Egyptian President Mohammed Mursi has called on the interior ministry and army to speed up the evacuation of those killed and injured.
The Sinai has witnessed a spate of attacks by militants since President Hosni Mubarak was forced from power in February 2011.
In August, 16 Egyptian soldiers were killed in a single attack, prompting a massive security crackdown. There have also been deadly clashes between fighters and Israeli forces on the Israeli border.
Analysts say local Bedouin criminal gangs, radical Palestinian groups and possibly militant Islamists sympathetic to al-Qaeda have gained a foothold in the region, which had been largely demilitarised since Egypt and Israel signed a peace treaty in 1979.