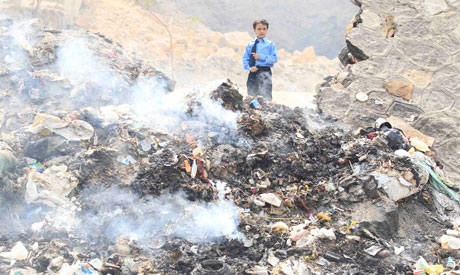 The red plastic bag of vegetable peelings plummets from the balcony and splits open as it hits the pavement. Dark juice oozes out, mixing with the battered cans, yellowed newspapers and chicken bones heaped on the nearby street corner. Egypt's garbage mountain has gained another kilo.
Cairo has long been a city where rich and poor live cheek by jowl, where extreme wealth sits within sight of wrenching poverty. Garbage, however, is one of the few equalisers.
Loose, fetid piles of refuse are a sight nearly all Cairenes confront when they step outside their homes; a seemingly permanent feature on the chaotic streets of Egypt's capital, the largest metropolitan area in Africa.
The average Egyptian family throws out four kilos of waste a day, according to recent figures – and this refuse is going nowhere fast.
Egypt's trash mountains have come to the president's attention too. Clearing the country's gutters and corners has been one of five key pledges in Mohamed Morsi's first 100 days in office, which end on Monday.
"Solving the garbage problem doesn't require a lot of money," said Morsi during a July speech just days after his inauguration.
Two weeks after he took office, a campaign dubbed Clean Homeland was launched in several Egyptian cities, calling on citizens and Muslim Brotherhood-affiliated youth to come together and devise solutions.
But Morsi and his group will have found that even an inexpensive problem isn't always quickly solved.
As Ahram Online's recent look behind the scenes revealed, a bewildering range of factors – from Mubarak-era privatisations to petty theft of facilities – hamper any quick-fire attempt to clean Egypt's thoroughfares.
Wading into a decades-old problem, Morsi will have struggled to introduce a single, united vision for a social service that appear to have evolved piecemeal to meet local needs.
Cleaning up Egypt's streets means, in effect, cleaning up the entire system.
A private affair
Some of the roots of the current morass can be traced to 2002 when the Mubarak regime began to sub-contract social services to the private sector.
Privately-owned garbage firms were employed to handle collection and disposal in some areas of the country. The ostensible aim was greater efficiency. In practice, it sparked further disagreements.
Private garbage collection companies complain of weak financing and lack of support from the state. Local government, meanwhile, says the contractors are not doing their duties and threatens legal action.
As the bickering goes on, the refuse piles up – and President Morsi's administration seems to have little idea of a clear, unified plan to tackle it.
In Egypt's second city of Alexandria, for instance, local officials lament what they claim is the poor recent performance of El-Nahda Garbage Company, a private contractor.
Karem Abdel Hamid, a former Member of Parliament and a senior member of the Muslim Brotherhood's Freedom and Justice Party, told Ahram Online that it had increased pressure on the firm to meet its targets, and got little response.
"We realised that pressuring the company would not be fruitful because their capacity is weak," Abdel Hamid said. "Now we are trying to secure a partnership with some businessmen to partially takeover garbage collection in the city."
In a further sign of desperation, he said that more than a dozen local charity organisations are also being approached to help collect garbage..
In Cairo, the story was different but the end result just as disappointing.
When the Clean Homeland campaign was announced, groups dealing with garbage management across Cairo held meetings and suggested new approaches.
Representatives from private collection firms and local government – as well as some informal garbage collectors – joined forces. It was to no avail.
"The desire to improve the system was there, and everyone had great ideas. But rhetoric is not enough," said Mazen El-Kotait, owner of Europa 2000, a collection company handling the districts of Helwan, Maadi, Tora and New Cairo.
El-Kotait said that he, along with other company executives, was asked to increase the company's collection rate but were never reimbursed for the extra work.
"Our company worked double shifts for a week beyond the contract. We were promised that the contracts with the government would be changed [and increased in value] but they weren't," he complains.
"We need to collect garbage at least twice a day to keep the streets clean," he said, drawing a contrast with New Cairo.
"The streets there are much cleaner because the local government is paying enough to get the job done."
El-Kotait's answer hints at another obstacle to a swift, countrywide clean-up: the vast disparities in population between one part of Cairo and another.
Commentators say garbage collection in the new satellite cities on the fringe of the capital is much more efficient than central districts, possibly because these settlements are better planned and less populated.
Also connected to the financial aspects of the problem is the issue of missing garbage skips.
When privatization was introduced to the sector in 2002, companies tried to install large garbage containers on every street. But the changes failed to gain much support.
Partly it was because Egyptians seemed slow to welcome a new process after generations of seeing garbage-men collect garbage from their doorsteps – but a series of thefts have played a part too, with opportunists taking advantage of a lightened police presence on the streets to help themselves to the facilities.
Contractors bear the responsibility for lost containers, but the rate at which they have been stolen or vandalized makes replacing them quickly very difficult.
Land of confusion
As a further complication, even in the corridors of power, there seems to be some confusion over who is in charge of garbage issues.
Local government in Egyptian cities hires firms to collect garbage and perform other tasks, which fall under the rubric of the so-called "beautification" authorities (Al-Hay'at Al-Amma Lelnazafa wal Tagmeel). Officially, local officials do the hiring and expect to see clean streets with minimal hassle.
"Garbage is not our responsibility," Ahmed Abul Nasr, the head of local administration in the Cairo district of Heliopolis, told Ahram Online during a recent visit to his office.
Moments earlier the walkie-talkie on Abul Nasr's desk had barked into life.
"Ok, Pasha - we've collected the trash from Cablat Street," came the muffled voice from the speaker.
Abul Nasr, a retired army officer, became defensive when asked about the contradiction. Then he rounded on the garbage collection companies.
It was clear from speaking to the other side, that there is little love lost between government and contractors.
"The government treats the private sector as their enemies," Mazen El-Kotait said.
He complained of the government's reluctance to include private companies in drawing up the technical details of the contracts they sign.
El-Kotait said he had made 160 comments on the technical sheet attached with the last contract and sent them to the government for clarification. Ne received no reply.
"They insist on excluding us from the planning process," he complained. "We know what the real problems are because we work on the ground."
Asked about bringing private firms into the planning process, Abul Nasr in Heliopolis waved his hand in annoyance.
"It is not their job – it is ours," he said dismissively.
A brief walk away in the district's well-heeled streets, one resident suggested that – whoever's responsibility it ultimately is – residents have seen little change in the last 100 days.
"I wasn't very optimistic about Morsi's promises and it seems I was right," said 60 year-old Moshira Mohamed.
She gestured from her apartment building to the large public garden that was once the pride of the area.
"Now I can't open my windows for long because the flies and mosquitoes living on the garbage pile will come in," she sighs.
"I've lived here for 40 years and this street is the worst I've ever seen it."