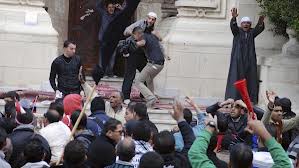 "Ibn Khaldun" center monitored yesterday during the referendum on constitution draft a number of violations, most notably preventing journalists from attending news conference of the Supreme Committee for the Referendum, as only the formal Egyptian television was allowed.
Furthermore, many journalists and observers were expelled from Committees in various governorates by MB supporters.
It added that a number of judges supervising the referendum haven't allowed journalists and TV reporters to enter the voting committees claiming they hinder the voting process.
Additionally, Copts were prevented from voting in Nasr City, Ibn Nafies school, Committee No. 23.