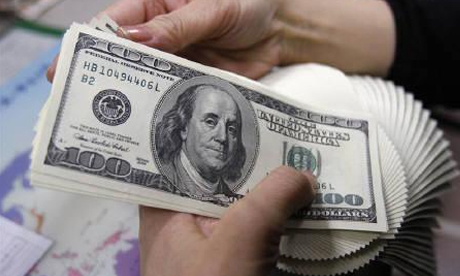 The Egyptian pound hit a record low on Tuesday after weakening again at a central bank U.S. dollar auction designed to stem a decline in the country's dwindling foreign currency reserves.
The central bank said the cut-off price at the Tuesday auction was LE6.4492 to the dollar - a 0.5 per cent fall from Sunday when the cut-off price was LE6.4185 to the dollar.
The central bank said it had sold $60 million at the auction - the same amount it had offered.
The weakening is in line with the central bank's interbank trading band, which it narrowed last week to plus or minus 0.5 per cent from the previous 1.0 per cent.
At local banks and currency exchange the US dollar is sold at a price as high as LE6.53 after adding profit margins for traders.
The Egyptian pound has dropped by some 5 per cent since the Central Bank of Egypt (CBE) adopted new currency regime.
On 30 December, CBE said it would hold periodical currency auctions for local banks to help conserve the nation's net foreign reserve which the Central Bank said had fallen to critical levels.
The CBE has held 6 similar auctions since then.
The new regime gives CBE more control over the price of the domestic currency through managing the supply of the US dollar in the market by altering the frequency and size of auctions.
Egypt's foreign reserves fell $21 million in December to reach $15.014 billion, a level that barely covers three months worth of imports.
Meanwhile, a delegation from the International Monetary Fund visited Cairo on Monday to renew talks about a $4.8 billion loan.
The government believes that the loan is essential for Egypt to help prop up its budget and contain the current currency crisis.