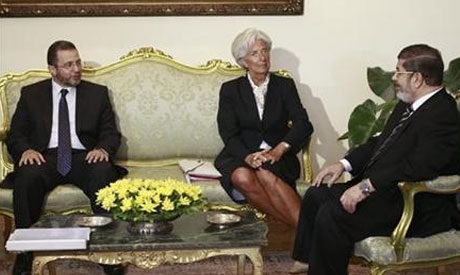 The International Monetary Fund (IMF) held "productive" discussions with Egypt about its economic strategy, a senior Fund official said on Monday after a visit to the country.
Egypt is desperately seeking a $4.8 billion loan from the IMF to help prop up its budget and contain a currency crisis set off by political turmoil.
"I have held productive discussions today with President Mohamed Morsi, Prime Minister Hisham Qandil, and Egypt's economic team on the economic and financial challenges now facing the Egyptian economy," Masood Ahmed, the IMF's director for Middle East and Central Asia, said in a statement.
He said a technical team will visit Egypt in coming weeks to discuss a possible IMF loan.
Egypt first struck an agreement for a stand-by loan with the IMF in November, but Cairo postponed the formal end of the deal last month because of new political confrontations and protests.
Analysts view the IMF loan as critical to give Egypt's Islamist government credibility with the markets. The Egyptian pound hit a series of record lows against the dollar on Monday as political turmoil is depleting the country's foreign reserves.