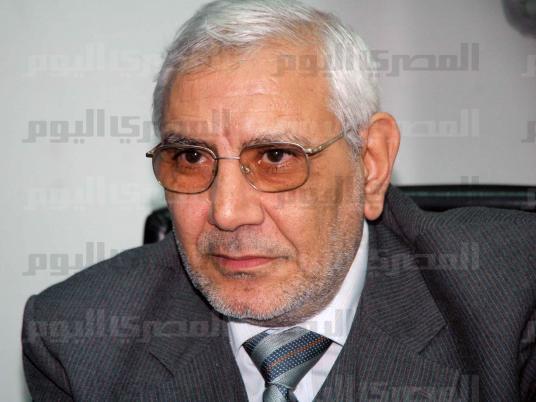 Former presidential candidate and Strong Egypt Party head Abdel Moneim Abouel Fotouh has denied any intention to merge with the National Salvation Front in the upcoming parliamentary elections, accusing the front of deepening political divides.
Abouel Fotouh told independent daily Al-Shorouk that his party had not, and will not, ask to join the front, stressing that they refuse to engage in politics through the group.
Abouel Fotouh added that his party does not mind coordinating with other revolutionary groups for the upcoming House of Representatives elections, but ruled out allying with the National Salvation Front, which, he claimed, contains both revolutionary and anti-revolutionary figures.
He had earlier called upon the front to purge its ranks of members affiliated with the regime of former President Hosni Mubarak.
"If some National Salvation Front parties, such as the Popular Socialist Alliance or the Dostour Party, are eager to coordinate with us as separate entities, we have no objection to that," Abouel Fotouh said.
Abouel Fotouh had recently held a meeting with Constitution Party leader Mohamed ElBaradei and Egypt Party chairman Amr Khaled, where he expressed his willingness to engage in an electoral alliance with both separate from the front.
But the front held a meeting late Sunday where it stressed that any electoral alliance should be under the umbrella of the National Salvation Front. The front added that it will remain united with its subordinate parties, including the Conference, chaired by former presidential candidate Amr Moussa, Mubarak's former foreign minister.
The National Salvation Front was formed by several secular parties to protest a constitutional declaration late November, which granted President Mohamed Morsy unchallengeable legislative powers and fuelled weeks of protests.